If you sell online using an ecommerce store, website traffic is key. But, how do you improve your site's traffic?
Search Engine Optimisation or SEO is the most vital factor for getting more visitors to your website. In this ecommerce SEO guide for Beauty and Healthcare Brands, we'll introduce SEO and what it can do for your business.
Whether you offer skin care products, make-up, with a range big or small, you'll acquire some helpful tips on improving your search engine ranking to increase the volume of sales on your website.
Search engines attempt to rank search results precisely enough to be able to provide results that match exactly what the user is searching for.
Search Engine Optimisation (SEO) helps you to rank higher for your target keywords which will drive more traffic to your website.
There's a lot of factors that go into ranking a website, below we have tried to give some top tips for how to improve the visibility of your beauty or healthcare ecommerce site!
Why is SEO relevant for your Beauty and Healthcare ecommerce brand?
To stand out from your competitors!
It's not enough for your beauty and/or healthcare ecommerce site to simply have an attention-grabbing website and great products. You need the sought-after first-page positioning to drive more traffic to your store.
As matter of fact, the first five search engine results receive over 65% of clicks which indicates that the top rankings are best way to gain traction for your site. Ranking higher and driving organic traffic to your site can boost brand's visibility and sales. In the highly competitive world of online beauty and healthcare, SEO could be the difference between triumph and defeat for your business.
Read on for our top 5 tips ecommerce SEO tips for beauty and healthcare brands:
SEO for Beauty and Healthcare Brands: Top Tips
1. Targeting the Right Keywords
Search engines work by ranking your ecommerce store according to the keywords they find. The best starting point for you is to gain a clear understanding of your target keywords. It's critical if you want to be discoverable online.
Identify Primary Keywords
For example, if your ecommerce store specialises in skin care, you'll need to consider all the keywords a potential customer might search for to find them.
If that sounds like an overwhelming task, there are specific tools like Google Keyword Planner and other free keyword research tools that can help you get it right.
Once you have done your keyword research you need to include them on your website on the most relevant pages for each term. You will also need to add the keywords to the meta title and description – the preview link which people see on search result pages:
For example, if your keyword research identifies 'Men's Skincare Sets' as relevant keywords, you can then include this on the page's meta title and description, which will be displayed on search engine results pages:
Meta Title: Men's Skincare Sets | The Health and Beauty Company
Meta Description: Buy Men's Skincare Sets from The Health and Beauty Company Today.  Select items for your skin sets based on your skin sensitivity and skin goals! Free delivery over £50.
Identify Secondary Keywords
After adding your primary keywords, use your secondary keyword research to identify 'search intent' and fitting phrases around your business to include in your website text.
These secondary keywords could be terms such as:
Vegan Beauty Products
Organic/Sustainable Beauty Products
Pregnancy Skincare Products
Makeup Gift Sets
Natural Beauty Products
Travel-sized Beauty Products
Include these secondary terms on the page content, like within the product description, to show search engines that your page is a relevant result for that specific query.
2. Improve your Technical SEO
Technical SEO is all about the structure of your beauty and/or healthcare website.
Although it concerns parts of the website your customers can't see, it's important that your technical SEO is up to scratch. Once your technical SEO is faultless, your site can be indexed by search engines correctly.
Several factors influence your website ranking. For example, fast page loading speeds boost user engagement. This alone makes it an important factor to work on.
An easy way to check the health of your current site is to use Google's Page Speed Insight tool. This lets you see where you are and gives you suggestions for improvement.
Page loading speed isn't the only technical factor to look into. These factors can also impact your ranking:
Navigation
Sitemaps
404 broken link errors
URL structure and internal linking
Site localisation
Structured data
Image alt tags
Whilst there are free SEO audit tools, they may produce results that are difficult to interpret. A SEO consultant can help uncover and fix pesky technical issues, which could be affecting your rankings. This is done by undertaking an in-depth SEO technical audit.
3. Optimise your Beauty and/or Healthcare Brand's Website Design
If you want to engage customers to increase your sales, you will also need to consider your site's design and functionality.
An engaging website's UX (user experience) is key for SEO. If your site doesn't look good or serve your customers well, your visitors will not use your site, and your ranking will suffer.
The longer a visitor spends browsing your website, the more relevant the search engines will see your site as. Your site will get recognised for being helpful and will move up the rankings.
If you're serious about making necessary changes to reach your website's full potential, these are the components you need to optimise:
Product Page Optimisation
It's straightforward. If your product pages are well-designed and contain valuable information, they'll rank higher.
If you want to improve functionality, add product filters. Filters allow your customers browse your primers, your eyeshadow palettes, or your moisturisers by skin sensitivity, price, size or product range.
Simplify the Checkout Process
When your customer finds a product they like, make it easy for them to add to basket and checkout with a minimum amount of friction.
Remarkably, there is an almost 70% cart abandonment rate for ecommerce websites. You truly have to do everything possible to get the user to check out quickly and effortlessly.
Your online beauty and/or healthcare store should offer a seamless checkout experience – with quick and easy payment and delivery options to make sure there are no delays or chances to re-think the purchase!
Research has found that user-generated reviews play a bigger role in decision making than marketer-generated content.
When it comes to SEO for beauty and healthcare, reviews and social media mentions are vitally important information that can make all the difference between a completed sale and an abandoned cart.
Reviews can attest to the quality of your products, and beauty and healthcare products that demonstrate real proof of how they work will rank higher than ones that don't!
4. Set up a Beauty and Healthcare Blog
A beauty and healthcare blog could be one of your biggest assets. Get the material right and you'll drive valuable, relevant traffic to your site.
Beauty and Healthcare is driven by trends and fads, so if you can keep your audience up to date with the latest beauty and healthcare hacks and tips, you'll instantly increase engagement. You'll decrease bounce rate and influence viewers to keep browsing and hopefully get those all-important sales.
You'll need to keep your blog regularly updated to take advantage of the latest developments in the health and beauty industry. Choose only the most relevant topics and make the most of internal links to promote your products.
Here are some blog ideas for your Beauty and Healthcare ecommerce site:
Which Beauty Brands are Cruelty Free?
What Beauty Products are Trending?
How are Beauty/Healthcare Products Made?
Luxury Beauty Styles on a Budget
Beauty Supplements: What You Need to Know
If you're not sure where to start with this, consider writing posts that answer the 'pain points' your product is solving for your customer.
5. Utilise Link-Building for your Beauty and/or Healthcare Ecommerce Site
Most beauty and healthcare ecommerce businesses find the online market is extremely competitive. And it can be hard to differentiate yourself from the competition.
So, if you've implemented our other suggestions, you could be ready to take your SEO up a notch using link building.
Google rankings are based on several factors. One of the biggest is the number and quality of links pointing from other sites to yours.
Link building can be difficult and time-consuming if you've never done it before. Below we have listed some tried and trusted strategies for link-building :
Guest posting:  Offer to write quality content for the top blogs in the healthy/beauty space in exchange for a link to your site.
Digital PR: Announcing an exciting new product or support an public event to generate news, while creating positive public responses and brand recognition.
Influencer outreach: Getting in contact with beauty and healthcare industry influencers is significant in getting the word out about your beauty and healthcare ecommerce site. Getting one influencer onside could have a domino effect. There are influencers specialising in makeup, skincare and hair so it's just about finding the right one!
Product reviews and giveaways: Encouraging beauthy and healthcare bloggers to review your products (usueful by giving away your product!) and ecommerce store is a great way to earn those all-important trustworthy links.
How About PPC For Ecommerce Beauty and Healthcare Brands?
Pay Per Click (PPC) is a proven advertising method in the beauty and healthcare industry. By setting up text (Search), product-based (Shopping) or image-based (Display) ads, you can generate instant traffic using Google's advertising platform Adwords instead of playing the 'long game' with SEO.
For ecommerce product-based advertising, retailers usually focus on Google Shopping – a sub-type of Google advertising. This campaign type allows your products to appear in a highly-visible featured box showcasing the product image and other key information. In order to show these ads, your product feed will need to be submitted from your website to Google Merchant Center.
We always recommend Google Ads for any businesses looking for instant traffic to their site – as SEO results can take months to show after being implemented.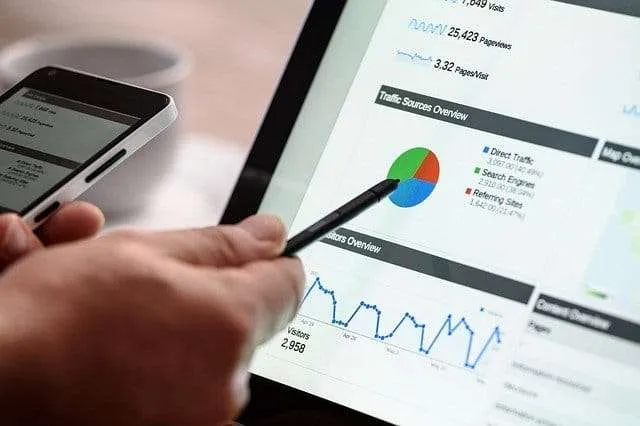 Despite the higher costs involved, Google Adwords is a great advertising channel that works in tandem with SEO. Consider hiring a Google Ads gency to optimise the targeting of your paid advertising strategy and make sure it remains profitable for your brand!
Confused by SEO for Beauty and Healthcare Ecommerce Brands? We Can Help!
Whether you're providing a high-end product range or are still finding your feet in the beauty and healthcare world, gaining visibility for your beauty and/or healthcare brand online isn't easy, especially when business owners have so much to think about.
We hope this ecommerce SEO guide for beauty and healthcare brands has helped, but if you need more help after reading this guide, an ecommerce SEO specialist could definitely help you get the traction your brand needs.
If you want any help improving the rankings of your  beauty and healthcare ecommerce site, please get in touch with Search Hog today.