Whether you're an independent builder or a construction company, you want to rank top in Google search. Search Engine Optimisation (SEO) uses different strategies and techniques to improve your website's rankings. This strategy is known as natural or organic search.
SEO, or Search Engine Optimisation, is the process of improving the ranking of your website on search engines such as Google or Bing.
With increased exposure online, you will undoubtedly see an increase in enquiries and business generated via your website.
Why is SEO important for your website?
The answer is simple – the higher you rank, the more customers you get.
You might have a string of referrals or great customer word of mouth. But SEO can ensure a steady stream of business month after month.
By ranking on the first page for search engines like Google and Bing, you can generate more potential leads for your business. And any company in the construction industry will benefit from a boost in your website traffic.
Would you believe that over 25% of users click on the number 1 search result? The click-through-rate drops dramatically the further away from top spot you are, whilst page 2 rankings barely receive any clicks.
SEO will help you move towards that sought-after top search result, or at least on page 1 where the majority of clicks are taken.
Local SEO for Construction Companies
Another very important thing to consider for construction companies is local SEO. Local SEO is the process of optimising a site to appear for searches related to the local area – vital for builders and other tradesman looking to pick up work in the local area.
For example, important keywords could be:
'Construction Companies in Cornwall'
'Builders in the South West'
'Trusted Builders near Exeter'
'Best Construction Companies Devon'
'Extension Builders Cornwall'
You will need to work out how to create pages or content targeting these important local keywords, which we will get to later on in the guide.
Another hugely import facet of local SEO is appearing on Google Maps using Google My Business.
Having great imagery of recent projects and gathering positive reviews is a big part of appearing prominently on Google Maps – thus bringing in those all important local business leads!
5 Top Tips – SEO for Builders & Construction Companies
Google ranks your website by looking at 200 different ranking factors. Of course, some are more important for the construction sector than others. Implementing these top 5 SEO tips should significantly impact your website traffic.
When it comes to on-site SEO, keywords are critical. On-site SEO helps you optimise your website so your content is relevant to your users. And the more valuable your content, the higher your ranking.
Start by creating a list of all the keywords relevant to your business. Then, to help you focus your search and target the right keywords, think about these questions:
What is your speciality as a construction firm? Are you a design and build company or do you solely focus on construction?
What's your client base – commercial or residential or both?
What are your core services? For example, if you focus on home renovations or commercial refits, make a note of relevant keywords.
The keywords you discover in this phase can help you decide what terms to target on your site.  SEO keyword tools can help you identify search volumes for these terms and build a comprehensive list.
Below are a few examples of target keywords for construction companies:
Affordable
Reliable
High-End/Luxury
Residential/Commercial Construction Companies
End-to-end House Builders
Extension Builders
Conversion Builders
Ensuring keywords such as these are included on your site means your site will be more likely to rank for related terms and pick up those all important clicks!
2. Add Keywords to your Site Meta Info and Page Content
Now you're clear on the services you offer, it's time to start building pages. To help Google find and rank each page, you'll need to optimise each element. Two of the most important elements to optimise include:
The page title is what first appears when your guests search for your website.
The meta description is the 1-2 line brief description that appears in search results.
For example, title tags help Google understand your content. So make sure they're descriptive and include your services and where you operate. So if you specialise in kitchen extensions in Cornwall, your title tag might read "Kitchen extension specialists in Cornwall".
To edit your meta info and page titles, you'll need to be able to access your website's content management system (CMS).
Popular website platform like Shopify and WordPress have simple input fields for you to fill in without needing any additional coding skills.
3. Make sure Technical SEO is up to scratch
Technical SEO makes all the difference to a great user experience (UX). Optimising your site's infrastructure is vital if you want your site to load fast and be easy to navigate.
Getting technical SEO right is the best strategy for creating a user-friendly website. In addition, your site will be more accessible for search engines to crawl and index, improving your organic rankings.
When you're optimising technical SEO, you need to look at:
Site structure
Site speed
Broken links (404s)
Image alt tags
Site localisation
Canonical tags
Structured data such as review snippets
Technical SEO is vital for improving organic search and UX. In turn, that persuades potential customers to use your services instead of the competition.
You can tackle technical SEO in several ways. The best course of action is a professional technical SEO audit that can uncover and fix any underlying issues. Free technical SEO audit tools are also available, including Google's Page Speed Insights. However, if you're not a specialist, the results can be challenging to interpret.
4. Create Relevant, Useful Content
Content is your biggest weapon in standing out from the competition and improving SEO.
Your content is all part of enhancing the UX and encouraging search engines to display your page as a result. So you might create blogs or videos or add FAQs and help pages to your site.
Your content doesn't have to be sales focused. It's just as essential to establish yourself as an authority in the construction sector. You can drive traffic to your site by adding value and solving problems for your customers. For example, answering the most common queries about planning permission or building regulations could lead to more enquiries in future.
Think about the broader audience. Those people may not need building work now, but a well-written blog or an explainer video could persuade them to use your services soon.
If you're looking for ideas for content creation for your construction company, try the following:
How can I choose a reputable builder?
When do you need planning permission?
Do I need a kitchen extension?
When you need a builder and when you can DIY
What is a design and build company?
Tailor your content to your business, and you'll create an ideal opportunity to use primary and secondary keywords to boost SEO. 
Finally, don't forget your call to action so your customers know how to book your services!
5. Scale your SEO with link building
Link building through backlinks is a great way to improve your Google ranking.
Links can be gained from other sites through strategies like guest blogs, social networking and brand mentions. Think of it as how others in your industry see you.
Just a few backlinks from high-quality websites that are authorities in the construction sector can boost your ranking. But be careful, as low-quality link-backs can have a negative impact and could even get you penalised by Google.
How About PPC For Builders & Constructions Companies?
Whilst SEO can take a relatively long time to see results, PPC (Pay-Per-Click) Advertising can give you instant website traffic for your target keywords.
Paid ads usually take up the first 3-4 spaces at the top of the search engine result pages, meaning they can bring in plenty of clicks for your business
For service-based business such as builders and other tradespeople, you will probably want to focus on text-based ads (Search ads), meaning you can control the exact search terms to show your ads on.
The benefit of Adwords for construction companies is that you can limit your ads to a local area, meaning you don't waste spend targeting people looking for a builder on the other side of the country!
Of course, you will need to pay Google for the click, as well as a PPC agency for the cost to set up the ads themselves.
Google have made it easier for ads to be set up on your own, however the risk of spend wastage is quite high and may cost a lot more than getting the help of a professional!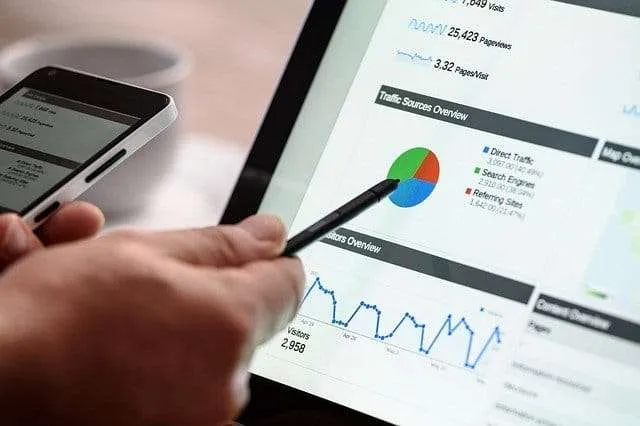 Confused by SEO for Construction Companies? Search Hog Can Help
It's perfectly normal to feel overwhelmed about setting up the SEO for your construction business. We hope this guide has helped, but if you are still confused about SEO after you read this guide, consulting a specialist SEO agency could be the best option for you.
If you would like any queries about SEO for builders, please get in touch with Search Hog today. We can help improve your website visibility online and attract more customers to book construction projects with you!