SEO is an increasingly critical strategy for Fintech businesses and financial service providers. But as financial products become more complex and digital competition increases, getting it right can seem daunting.
With these essential tips, you can begin to develop optimisation strategies that work for your financial services website.
Google uses search rankings to show users the most trustworthy, relevant and high-quality content. 
SEO, or Search Engine Optimisation, is the process of improving website visibility using a range of different techniques based around Google's algorithm requirements.
Effectively you are optimising your site to drive more targeted, relevant traffic and end up with more customers for your financial services business.
How Can your Financial Services Business Rank Higher?
As a financial institution, you'll face higher levels of scrutiny from customers and search engines alike. As a result, your onsite and offset SEO need to go the extra mile.
When discussing how financial services businesses can rank higher on search engines, we usually talk about on-page and off-page SEO strategies:
On-page SEO strategies include using relevant keywords, meta descriptions and unique and compelling content to help your business rank more highly and position as an authority in your field. In turn, this drives more organic traffic to your site to grow your business.
Off-page SEO focuses on activities away from your site that improve your ranking, including leveraging other sites using strategies like guest blogs and link building. Successful off-page SEO is all about broadening your targeting to establish relationships with relevant businesses in the financial sector.
5 Top Tips for Financial Services SEO
We've put together these five financial services SEO tips for so you can start making changes and climbing the rankings today.
It's extremely important to understand the keywords and phrases that your potential people will use to find your business. Search engines like Google ultimately rank your website according to the keywords they find on your website.
Keyword research is usually done using specific tools such as Google Keyword Planner as well as competitor analysis, but these tools may not be accessible to you if you're not using an SEO consultant.
Here are some SEO keyword ideas for financial services companies which you could add to your website – of course, it's better to be more specific by using a keyword research tool.
FCA Regulated
Expert financial advice
Trusted investment
High-yield investments
Top/Best Financial Services Company
Financial Specialist
These keywords will likely also be the USPs of your financial services business, so you may be shouting about them already, but – if not – include the keywords in the meta title/descriptions, header tags and on-page content.
2. Ensure your Technical SEO is on Point
Adding your target keywords is just one part of the SEO roadmap to success. If your site is not technically set up to SEO best practices, you will struggle to rank for competitive terms.
Technical SEO allows you to effectively manage your website while optimising it for accuracy and consistency. Therefore, your website should prioritise technical SEO from launch to grow without issues.
Your technical SEO strategy should build best practice into the following areas:
Site structure
Site speed
Broken links (404s)
Image alt tags
Mobile optimisation
Site localisation
Canonical tags
Structured data such as review snippets
So, where to start with improving the technical SEO for your financial services site? There are free technical SEO audit tools such as Google's Page Speed Insights but the results may be difficult to understand without specialist coding knowledge.
Consider a paid SEO audit by a specialist to both identify and explain the issues on your site, a great starting point for any SEO work to be undertaken.
3. Create Quality On-Site Content
Creating quality content for your site, such as guides on your area of expertise, helps search engines to give more context to your website as well as driving more traffic for long-tail keywords.
Whilst keyword research is important, a good starting point can be to think of what value you can offer to people trying to gather knowledge of your products or services. Some key questions to ask are:
What specialist financial services do you offer?
What subjects do you communicate effectively about where others struggle?
What complex topics have you mastered and can explain clearly to your audience?
Content marketing such as this is a great way to establish a consistent and authoritative tone across your website showcasing your expertise in your sector.
Establishing authoritativeness in the financial space isn't always easy when there is no one size fits all response. However, your users will feel confident in your content and expertise when you write with clarity and confidence about complex issues.
As a result, you'll meet Google's authoritativeness standards and create opportunities for your content to be shared on social media or by other financial services, as users are more likely to share valuable answers.
Creating a quality content strategy is a great way to improve your overall website visibility and establish trust in your financial services business online.
4. Take your SEO to the Next Level with Link Building
Link building is another rewarding strategy for financial services companies looking to improve their SEO. This is because gaining a backlink from another site works like a reference to show your site is trustworthy.
In fact, the more established the site you can get a backlink from the better it will be for your own site's rankings. But, how do you go about gaining these backlinks?Here are some top tips for link-building for financial services:
Guest posting on authoratitve sites in the financial services industry. Offer your expertise on breaking news stories or as a resource for comment and opinion, and build your credibility as a trustworthy and reliable source.
You may also look to approach relevant directories such as list of financial services companies in your niche by a governing body or other authority in your industry.
Another tried and trusted method is through the use of digital PR – basically doing something newsworthy and approaching online publications in your niche to get featured and gain valuable backlinks in the process. This has the added bonus of creating a positive reputation for your business in the places where people look for your services.
Finally, never underestimate the power of reviews. Encouraging media outlets and blogs to sample your product or service for free can both showcase the quality of your service as well as earning much-needed links.
5. Spread your Digital Footprint & Improve your EAT
Financial companies are subject to the strictest level of scrutiny by search engines such as Google as they fall in the YMYL (Your Money, Your Life) category. YMYL refers to sites that can potentially affect a person's safety, health, happiness, or financial stability.
As a financial services website, your content must conform to stringent guidelines on accuracy and trustworthiness. If the search quality evaluator teams find content that doesn't meet their high standards, Google will rewrite the algorithm to redirect to more trustworthy sites.
A solid financial services SEO strategy will take a holistic approach by integrating on and off-page and technical SEO to ensure you rank highly now and in the long term, there are no quick and easy fixes when it comes to building an established and trustworthy website.
The main way you can demonstrate your reliability online is by (another!) acronym known as E-A-T. EAT is Google terminology for Expertise, Authoritativeness and Trustworthiness, which is essential for SEO for financial services.
In order to meet Google's EAT standards Establishing your website as a trusted source is critical in the financial services space.
Following a few simple rules for your written content can help to establish trustworthiness:
Focus on accuracy and fact-checking
Ensure that data sources are reliable and of good quality
Check for inaccuracies and spelling mistakes
Creating highly readable content that's trustworthy, relevant, and accessible to your audience is essential. Using suitable visual aids can also elevate your content, improving information retrieval and making your content seem quick and easy to digest.
In addition, creating content designed to rank higher in search also creates more significant backlink opportunities from quality sites that use your pages for their trustworthiness and as a valuable resource.
Therefore, your financial services website could be missing out on organic traffic if it doesn't score highly on critical EAT features or adhere to Google website guidelines.
How About PPC For Financial Services Companies?
Whilst SEO can take months or even years to see results due to the need to build up a trustworthy website, PPC (Pay-Per-Click) or Google Adwords can give you instant website traffic for chosen keywords.
Paid ads usually take up the first 3-4 spaces at the top of the search engine results, even before the other non-paid search results are featured, meaning they are a quick win for driving targeted traffic to your website.
Of course, you will need to pay Google for the click through to your website (which can be high in some competitive spaces within the financial services sector), as well as a PPC agency for creating and targeting the ads themselves.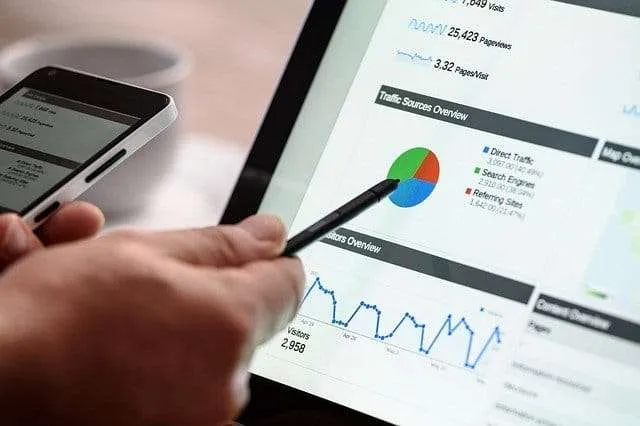 It's worth noting that as a financial services company you will be subject to stricter guidelines to other advertisers due to the potential for fraud. If you are a financial services company operating from the UK, you will need to prove you are authorised by the UK Financial Conduct Authority or qualify for one of the exemptions, you will also need to prove your identity with a form of documentation.
Confused by SEO for Fintech and Financial Services Companies? Search Hog Can Help
As a professional SEO consultants based in the UK, we help large and small Fintech and financial service brands develop the right digital strategy.
Our expertise and skillset have helped us develop winning SEO strategies for Fintech companies and traditional businesses in the financial services space.
If you would like any help with the SEO for financial services companies, please get in touch with Search Hog today. We can help improve your website visibility online!